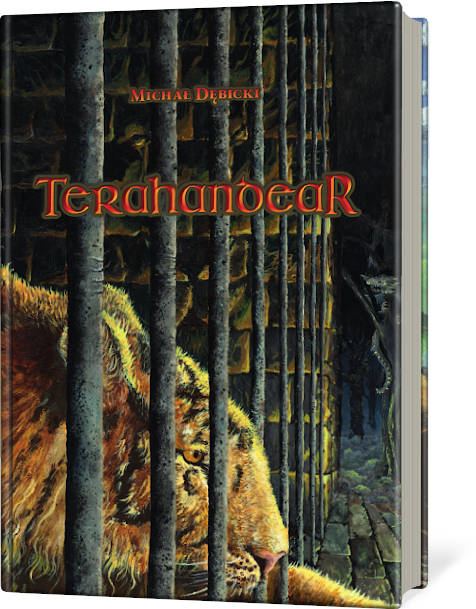 Nigdy nie widziałem ani jednego promienia słońca. Przez całe życie tkwię w jakiejś podziemnej kopalni. Jest tu cała moja rodzina, ale strażnicy nie pozwalają mi wychodzić poza kraty celi. Jestem za mały. Tam gdzieś, na górze, podobno jest piękny świat – każdego dnia marzę o tym, by się tam znaleźć, choć nigdy go nie widziałem na własne oczy. Nawet nie mam pewności, czy on naprawdę istnieje. To moja opowieść – o moich lękach, marzeniach, wyobraźni, o tym, że nie każdy zły jest zły i nie każdy dobry – dobry. Jest o smokach, o ludziach, no i o nas też, rzecz jasna. No i o tym, czy kiedykolwiek się stąd wydostanę...

Terahandear to moja pierwsza książka, a zarazem spełnienie moich marzeń sprzed lat. Udostępniam ją za darmo na licencji Creative Commons, aby udowodnić sobie i światu, że tak się da. Możesz ją czytać, rozpowszechniać, a nawet przetwarzać praktycznie bez żadnych ograniczeń. Zapraszam do lektury!
Michał Dębicki
komputer ▪ druk
Wersja PDF
Wersja tekstu: 1.06. 360 s., 6,1 MB
Liczba pobrań:
komputer ▪ tablet ▪ smartfon
Wersja HTML
Wersja tekstu: 1.07. 2,7 MB
Wbudowany słownik i przypisy
Liczba pobrań:
czytnik ebooków ▪ smartfon
Ebook
Wersja tekstu: 1.07.
Formaty: MOBI (0,8MB), EPUB (0,6MB). Przypisy dolne w tekście głównym.
komputer ▪ tablet ▪ czytnik ebooków
Google books
Wersja tekstu: 1.07b/1.06
Formaty: EPUB (1,0MB), PDF (6,0MB).
Wersja papierowa
Wersja tekstu: 1.06.
Twarda oprawa szyta, 360 s.
15,38 PLN+wysyłka.

Potrzebujesz wersji PDF w kolorze w pełnej rozdzielczości? Przejdź tutaj. Potrzebujesz wersji PDF do druku razem z okładką i lakierem UV? Pisz na mój e-mail. Książka razem z okładką w 600 DPI nie zmieściła mi się na serwerze (łącznie 69,6 MB). Cena wersji papierowej to koszt wydruku jednego egzemplarza i nic ponadto. Taką dostałem ofertę drukarni, w której zamówiłem wydruk i oprawę 100 egzemplarzy. Nie miałem zamiaru, by na tej książce zarabiać, marzyłem jedynie o tym, by ją napisać. Sam zająłem się oprawą graficzną i składem DTP, rodzina i przyjaciele pomogli mi przy korekcie. Jeśli uważasz, że książka ta jest dobra i chcesz wspomóc finansowo jej autora, czyli mnie, kliknij.
Mój numer konta:
91 1140 2004 0000 3102 3726 0579 (mBank)
Zostaw komentarz